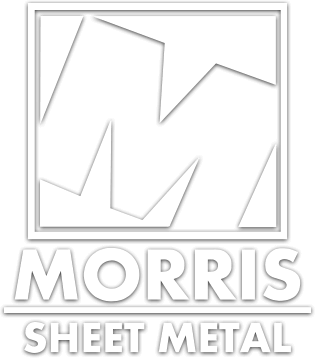 CUSTOM METAL FABRICATION AND INSTALLATION
Morris Sheet Metal is a full service HVAC Contractor offering design, fabrication, and installation service. We are happy to quote your project as a subcontractor or give a price to fabricate a job for your crew to install. Custom sheet metal fabrication is another specialty of Morris Sheet Metal. Let our skilled craftsmen help your design become reality. Precision, quality and attention to details are few adjectives to describe Morris Sheet Metal.
As far as our custom fabrication and assembly services go, we offer
We strive to provide precision and quality to our clients so that they don't have to worry about accidental offsets in dimensions, durability, and overall quality of our work. Our team is comprised of talented individuals who have been a part of this particular industry for decades and know exactly how to handle heavy machinery, and on top of that, they know exactly what it takes to fabricate a premium-quality component. Consistency is one of the things we take quite seriously, and because of that, we vouch for each component we manufacture, and we guarantee durability, resilience, and accuracy.
Our high definition 6x20ft., automated plasma machine, can cut metal plates that are up to 1" thick. In other words, we can fabricate and assemble virtually any metal component that is no thicker than one inch. We also work with CAD (computer-aided design) as well as BIM (building information modeling), both of which are processes that require a team effort. BIM, at its core, offers a digital representation of a particular system or facility, including roofs, windows, HVAC systems, and electrical systems, allowing us to create work plans that are efficient, precise, and thoroughly reviewed.
Why Choose Morris Sheet Metal
Morris Sheet Metal is owned by Alpine 4 Technologies, and with a combined total of 90 years of experience in the sheet metal industry, we can safely guarantee quality, consistency, and efficiency. Whether you're looking to fabricate an HVAC system in an office building or are perhaps looking for industry tanks or ovens, we are the solution!
We pay special attention to every aspect of any given process in order to make sure that everything is being done the right way. One of the strongest reasons why we are still at the top of this industry is the sheer devotion to precision, quality, and efficiency.